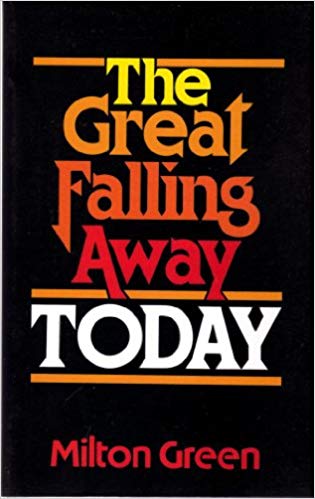 The Great Falling Away Today by Milton Green
We feel strongly impressed by the Lord to urge our readers to purchase and read side by side with the Scriptures, Milton Green's book, The Great Falling Away Today!
This book contains the message that God gave Milton to speak to the Church on earth today.
Many years ago the Scriptures spoke to Milton's heart as he was reading Isaiah 6:8-10 (NKJV):
8 I heard the voice of the Lord, saying:
"Whom shall I send,
And who will go for Us?"
Then I said, "Here am I! Send me."
9 And He said, "Go, and tell this people:
'Keep on hearing, but do not understand;
Keep on seeing, but do not perceive.'
10 "Make the heart of this people dull,
And their ears heavy,
And shut their eyes;
Lest they see with their eyes,
And hear with their ears,
And understand with their heart,
And return and be healed."
Milton said, "Lord, I'll go." And so, verses nine and ten were fulfilled.
Milton's message calls the Church to wake up out of its spiritual sleep, for the Bridegroom is coming soon. Milton's book opens up the understanding of many Scriptures in God's Word – that's why we feel strongly impressed that you read this book. It will change your life if you have ears to hear and a heart to do it. We pray that you do!
This book may be purchased through:
Be Fruitful and Multiply
P. O. Box 3459
Palestine, Texas 75802

Phone: (903) 723-2448
Or by visiting Amazon: https://www.amazon.com/Great-Falling-Away-Today/dp/0910311404